Diese Seite auf Deutsch anzeigen
Eating healthy – Advice on good nutrition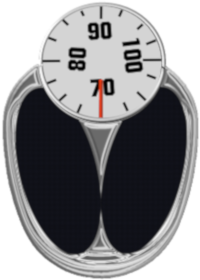 By choosing the right foods, it is possible to reduce your overweight and reach a healthy body weight. But it is even more important that you maintain this weight permanently. To achieve this goal, hunger, deprivation and continuous self-control are not your best friends.
With the right knowledge about Healthy Eating and the willingness to implement lasting changes in your eating habits, you are on the right way to achieve your personal ideal weight without going on a diet. This will help you to maintain your desired weight without the need for constant dieting and without the yo-yo effect.
Overweight is caused by a positive energy balance. This means if you consume more calories than you burn, sooner or later you are going to gain weight. Many times this is because you are eating the wrong foods. Wrong foods are especially fast food and convenience foods. Industrial processed foods are very often made with poor-quality ingredients and are also high in calories.
Overweight can also be caused by baked goods, sweets and soft drinks.
Even a small imbalance between calorie intake and calorie consumption will cause a noticeable change of your body over time. For example, if you eat a bar of chocolate every day that contains more energy than you need in calories, you could gain up to 8 pounds in a year. However, if your calorie intake is less than your calorie requirement, you will lose weight just as safely.
Food Comparison
Food category


good


bad


Bread / Cereals
Whole grain bread
Rye bread
Rye bun
Black bread
Spelled bread
Oatmeal
Quinoa & Amaranth
Wheat bread
Wheat bread roll
White bread
Toast
Milk bun
Rusk
Cheese
Types of cheese, up to 30% F.D.M.
Types of chese from 40% F.D.M.
Sausages
Low-fat sausage, e.g.
Cassler
Poultry sausage
Cooked ham without Fat
Roast beef
High-fat sausage, e.g.
Liver sausage
Cervelat sausage
Mortadella
Salami
Milk & Dairy Products
Low-fat milk, 1.5% fat
Condensed milk, 4% fat
Lowfat quark
Natural yoghurt, 1.5% fat
Buttermilk
Soured milk
Kefir
Whey
Sour Milk
Whole milk, 3.5% fat
Coffee cream
Condensed milk, 7.5% fat
Quark, 40% fat
Natural yoghurt, 3.5 fat
Whipped cream
Creme fraiche
Meat
Lean meat from
Calf, Beef or Pig
Fatty meat of any kind e.g.
Bacon, Pork belly
Venison meat
Low-fat parts
Poultry
Skinless chicken
Skinless turkey
Goose
Duck
Fish
Lean fish (< 2% fat) e.g.
Pike
Cod
Haddock
Plaice
Saithe
Zander
Fatty fish (> 2% fat) e.g.
Trout
Eel
Salmon
Herring
Mackerel
Sardines
Potatoes
Boiled potatoes
Peel potatoes
Mashed potatoes
Potato dumplings
French fries
Fried potatoes
Roast potatoes
Potato chips
Vegetables
all types of fresh vegetables
all types of frozen vegetables
Steamed vegetables or raw vegetables
Canned vegetables
Herbs & spices
Iodized salt, sparingly used
Fresh herbs & spices
Frozen herbs & spices
Ready-to-use sauces
Fat & oil
Margarine
semi-fat Margarine
Butter
Olive oil
Sunflower oil
Maize germ oil
Safflower oil
Mayonnaise
Lard
Bacon
Coconut oil
Fruits
fresh fruit of any kind
Canned fruits
Baked goods
all low-fat species e.g.
lean yeast dough
Curd-oil dough
Wholemeal cake
Wholemeal cookies
Salty cookies
Chips
Tacos
Fat yeast dough
Puff pastry
Shortcrust pastry
Sponge cake base
Sponge cake
Cakes
Baked goods made from wheat flour
Sweets
Jam with sweetener
Steamed compote with sweetener
Sweetener
Jam with sugar
Compote with sugar
Sugar
Honey
Syrup
Sweets
Chocolate
Nougat
Marzipan
Ice cream
Drinks
Mineral water
Tea with sweetener
Coffee with sweetener
naturally cloudy fruit juices
naturally cloudy vegetable juices
Schorle
Alcohol
Fruit juices with sugar
Fruit nectars with sugar
Vegetable juices with sugar
Lemonade
Effervescent
Cola